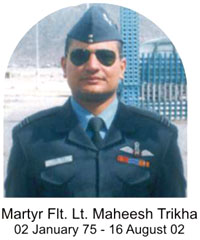 Martyr Flight Lieutenant Maheesh Trikha
Martyr Flight Lieutenant Maheesh Trikha was born on 02 January 1975 at Military Hospital , Dehra Dun Cantt.

All India topper, joined Pratap Section of Rashtriya Indian Millitary College (RIMC) Dehradun in July 1986.

Joined National Defence Academy, Pune during 1992 with 88 NDA course in the Hunter Squadron.

Adventurous by nature, Maheesh took the challenges of open sky and joined the Indian Air Force.

Maheesh got commissioned on 29th June 1996 from AFA, Dundigal as a Helicopter pilot in the elite service-Indian Air Force.
His 1st career posting was with 141 Holicopter Unit (SSS) at Air force Station, Jam Nagar, Gujarat.

As a volunteer, joined 114 Helicopter Unit (HU), IAF at Leh during April 2001 (Siachin Pioneers)

Siachin Pioneers of Indian Air Force trained Maheesh to be a Glacier Pilot.

Maheesh, while returning to the base camp after accomplishment of his operational task at Siachin Glacier kept the RIMC motto-"Cradle of Excellence Where Gallantry is a Tradition", valiantly gave his life for the country in Air Force Uniform at 0941 hrs on the 16 August 2002 under Operations "Meghdoot" & "Parakram" and became Martyr.