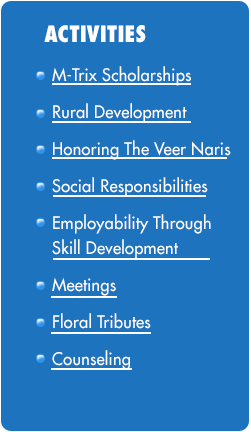 Trikha 10th Anniversary Dinner
Martyr Flight Lieutenant Mahesh Trikha Foundation hosted their 10<sup>th</sup> Anniversary Dinner on the 07 July 2017 at the Swimming Pool, Air Force Sports Complex, Lok Kalyan Marg, New Delhi 110003. Chief Guest, Air Chief Marshal B S Danoa, PVSM, AVSM, YSM, VM, ADC, Chief of the Air Staff. accompanied by his wife was welcomed by Mrs. Swdesh Trikha, President of M-Trix Foundation and the Mother of Martyr Flight Lieutenant Mahesh Trikha for the gala evening.
The evening was very well attended by the Serving Air Force Officers, Bureaucrats, Veterans, Rimcollian Senior Serving officers from three Services and the Rimcollian Course Mates of Martyr Flight Lieutenant Maheesh Trikha. During the evening, the Welcome Address was given by the President, Mrs. Swdesh Trikha and the Presentation on the M-Trix Foundation activities were covered jointly by Mrs. Swdesh Trikha and Col. Jagat Raj Trikha.
During the address by the Chief Guest, Air Chief Marshal B S Dhanoa applauded the efforts of the Mrs.Swdesh Trikha and of Col Jagat Trikha for the activities that have been carried out by the M-Trix Foundation. ACM Dhanoa also said that the Martyrdom of Flt. Lt. Maheesh Trikha has given lots of pains / tolerance to the parents to bear such an irreparable loss but at the same given a purpose to them to get involved with the up liftment of the society and is being undertaken by Mrs. Swdesh Trikha and Col. Jagat Trikha in a befitting & sporting manner, which has been very amply indicated through the presentation that has been witnessed by all of us. At the end, ACM Dhanoa presented a cheque of Rs, 50,000,00 ( Rs, Fifty Thousands only) as the contribution from the Indian Air Force , wished best of luck to the M-Trix Foundation for their future endeouvres and thanked Mrs. and Col. Trikha for the lively and enjoyable evening.
Few of the glimpses of the 10 Anniversary Dinner of the M-Trix Foundation are enclosed please:-