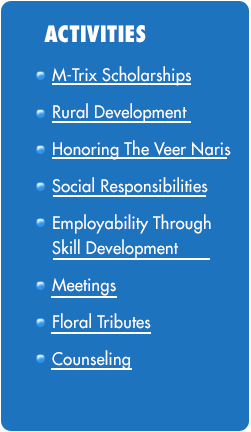 "M-TRIX SCHOLARSHIP AWARD"
"M- TRIX" Scholarship award is presented for the Excellence in studies to the children of the Group " C " & "D" Employees of the Rashtriya Indian Military College (RIMC), Dehradun.The Scholarship is instituted in the memory of Martyr Flight Lieutenant Maheesh Trikha of Pratap Section by his parents, Mrs & Col J R Trikha during the Academic Year 2002-2003.
Martyr Flight Lieutenant Maheesh Trikha joined the RIMC on 01 August 1986 and passed out on the 31 May 1992. During his stay at the RIMC, he was always a well-behaved, smart and mischievous cadet. He then joined the National Defense Academy (N.D.A), Khadakvasla, Pune and opted for the Indian Air Force. On Commissioning as the Helicopter Pilot on 29 June 1996 from AFA, Dundigal,  he was posted at 141 Helicopter Unit (SSS) at Jam Nagar from the Year 1996 to 2001.
As a volunteer for the posting to the Leh, Ladakh, Martyr Maheesh Trikha was then posted at 114 Helicopter Unit (Siachen Pioneers) of the Indian Air Force at Leh, during the early part of the Year 2001. He was awarded the Glacier Pilot Certificate for his competent and able flying in the Siachen Glacier, while being with the 114 HU at Leh.On the 16 August 2002, While on an Operational Sortie at the Siachen Glacier, The highest and the coldest battlefield in the World, due to certain snags in his Cheetah Helicopter, He gave his life in uniform for his Motherland and became Martyr at 0941 Hrs. As a token of remembrance, his parents have instituted a scholarship by depositing a sum of Rs. 50,000 / – with the RIMC Cooperative Society through the Commandant RIMC during the month of November 2002.The interest accrued on the fixed deposit with equal amount added by the Parents and total amount is then distributed to the children. The M- TRIX Scholarship is being awarded annually to the wards of the RIMC Group "C"& "D" Employees, who excel in academics by the donors on the recommendations of the Commandant RIMC, Dehra Dun  on 13 March every year during the ROBA  Re-union Celebrations as per the guidelines issued by the RIMC.
A total of 71 wards of the RIMC Group C Employees have been then beneficiaries / recipients of the "M-Trix" Scholarship since the institution of the award and till the academic year 2015-2016.Two of the recipients of the M-Trix Scholarship having cleared UPSC, RIMC entrance examination  are presently studying in RIMC, which is matter of pride and satisfaction for the Parents of Martyr Maheesh Trikha.
The M-TRIX Scholarship for the Year 2015- 2016
The M-TRIX Scholarship for the Year was awarded by Mrs. Swadesh Trikha, the mother of Martyr Flight Lieutenant Maheesh Trikha on the 13 March 2016 at RIMC. The proud recipients of the scholarships were: –
Kumari Sheela
D/O Shri Durga Bahadur 

8th 

Kumari Simran Thapliyal
D/O Shri.Umesh Chandra

6th

Kumari Taniya Rawat
D/O Shri Dinesh Singh

11th

Master Uttam Singh
S/O Shri Ranjeet Singh 

5th

Master Abhijeet Maurya
S/O Shri R S Maurya

10th

Master Yash Kumar
S/O Shri Sunil Kumar

7th
The M-TRIX Scholarship for the Year 2014- 2015
The M-TRIX Scholarship for the Year was awarded by Mrs. Swadesh Trikha, the mother of Martyr Flight Lieutenant Maheesh Trikha on the 13 March 2015 at RIMC. The proud recipients of the scholarships were: –

Kumari Sheela
D/O Shri Durga Bahadur 

7th 

Kumari Neha Joshi
D/O Shri.B P Joshi

11th

Kumari Taniya Rawat
D/O Shri Dinesh Singh

10th

Master Piyush Kumar
S/O Shri Vinod Kumar 

5th

MasterRaghav Kumar
S/O Shri Sunil Kumar

8th

Master Abhijeet Maurya
S/O Shri Ramsharan Maurya

5th
The M-TRIX Scholarship for the Year 2011-2012
The M-TRIX Scholarship for the first Year was awarded by Mrs. Swadesh Trikha, the mother of Martyr Flight Lieutenant Maheesh Trikha on the 13 March 2012 at RIMC. The proud recipients of the scholarships were:
| | | |
| --- | --- | --- |
| S.No | Name | Class |
| 1. | Kumari Neha Chhetri, D/o Sh Karan Bahadur | V |
| 2. | Kumari Deepti Vedwal, D/o Sh Vinod Vedwal | VIII |
| 3. | Kumari Sheela, D/o Sh Durga Bahadur | IV |
| 4. | Kumari Himani, D/o Sh Hari Krishan Baluni | XII |
| 5. | Master Shivam , S/o Sh Chunni Lal | IX |
| 6. | Master Pradeep Bahadur, S/o Sh Durga Bahadur | VII |
The M-TRIX Scholarship for the Year 2012-2013
The M-TRIX Scholarship for the first Year was awarded by Mrs. Swadesh Trikha, the mother of Martyr Flight Lieutenant Maheesh Trikha on the 13 March 2013 at RIMC. The proud recipients of the scholarships were:
S.No

Name

Class

1.

Kumari Neha Joshi, D/o Sh B P Joshi

IX

2.

Kumari Neha Chand
D/O Shri. Harish Chand

X

3.

Kumari Neha Chand, D/o Sh Harish Chand

IX

4.

Master Raghav Kumar, S/oSh Sunil Kumar

VI

5.

Master Mohit Kumar , S.o Sh Satish Kumar

V

6.

Master Amit Kumar , S/o Sh Suresh Kumar

VI
The M-TRIX Scholarship for the Year  2013-2014
The M-TRIX Scholarship for the first Year was awarded by Mrs. Swadesh Trikha, the mother of Martyr Flight Lieutenant Maheesh Trikha on the 13 March 2014 at RIMC. The proud recipients of the scholarships were: –

Kumari Neha Joshi
D/O Shri B.P. Joshi

10th

Kumari Neha Chand
D/O Shri. Harish Chand

10th

Kumari Sheela
D/O Shri Durga Bahadur

6th

Master Abhinav
S/O Shri Vinod Kumar

Handicapped
The M-TRIX Scholarship for the Year 2009-2010
The M-TRIX Scholarship for the first Year was awarded by Mrs. Swadesh Trikha, the mother of Martyr Flight Lieutenant Maheesh Trikha on the 13 March 2010 at RIMC. The proud recipients of the scholarships were: –
SCHOLARSHIP AT RIMC FOR THE YEAR 2009-2010
| | | |
| --- | --- | --- |
| S NO  | NAME  | Class |
| 1 | Kumari Neeru,D/o Shri Durga Bahadur  | IV |
| 2 | Kumari Divya , D/o Sh Mahesh Prasad | X |
| 3 | Kumari Pratistha, D/o Sh Arjun Ji | VII |
| 4 | Master Tarun Dhanik, S/o Sh R S Dhanik | VII |
|   | Master Mukul Kumar, S/o Sh Satish Kumar  | VI |
The M-TRIX Scholarship for the Year 2008-2009
| | | |
| --- | --- | --- |
| S NO  | NAME  | Class |
| 1 | Kumari Neeru,D/o Shri Durga Bahadur  | IV |
| 2 | Kumari Himani, D/o Sh H K Galoni,  | X |
| 3 | Kumari Pratistha, D/o Sh Arjun Ji | VII |
| 4 | Master Bishnu Prasad, S/o Sh Rajender Prasad | VII |
| 5. | Master Govind Dhanik, S/o Sh R S Dhanik | X |
| 6. | Master Mukul Kumar, S/o Sh Satish Kumar  | VI |
The M-TRIX Scholarship for the Year 2007-2008
The M-TRIX Scholarship for the first Year was awarded by Mrs. Swadesh Trikha, the mother of Martyr Flight Lieutenant Maheesh Trikha on the 13 March 2009 at RIMC. The proud recipients of the scholarships were:
SCHOLARSHIP AT RIMC FOR THE YEAR 2007-2008
| | | |
| --- | --- | --- |
| S NO  | NAME  | Class |
| 1 | Kumari Neeru,D/o Shri Durga Bahadur  | IV |
| 2 | Kumari Geetanjali, D/o Sh R S Dhanik | XI  |
| 3 | Master Tarun Dhanik, S/o Sh R S Dhanik  | V |
| 4 | Master Mukul Kumar , S/o Sh Satish Kumar  | V |
The M-TRIX Scholarship for the Year 2003-2004

The M-TRIX Scholarship for the first Year was awarded by Mrs. Swadesh Trikha, the mother of Martyr Flight Lieutenant Maheesh Trikha on the 13 March 2004 at RIMC. The proud recipients of the scholarships were: –
Kumari Monica
D/O Shri Gyan Singh

8th

KV, ONGC, Dehradun.

Kumari Geetanjali
D/O Shri. R.S Dhanik

7th

KV, ONGC, Dehradun.

Kumari Priyanka
D/O Shri Daya Ram Chauhan

Vth

Doon Valley, Dehradun
The M-TRIX Scholarship for the Year 2002-2003
The M-TRIX Scholarship for the first Year was awarded by Mrs. Swadesh Trikha, the mother of Martyr Flight Lieutenant Maheesh Trikha on the 13 March 2003 at RIMC. The proud recipients of the scholarships were: –
Kumari Alka
D/O Shri Ramesh Kumar

8th

KV, ONGC, Dehradun.

Kumari Geetanjali
D/O Shri. Rajan Dhanik

9th

KV, ONGC, Dehradun.

Kumari Reena Chauhan
D/O Shri Daya Ram

12th

Doon Valley, Dehradun
M-Trix Scholarship at RIMC Dehradun